Introduction
Toyota is preparing to train its own collision experts because it will need about 700 more dealership body shop technicians by 2000.
The company is expanding its Toyota Technical Education Network – known as T-Ten – to include training in body shop repair and refinishing.
Toyota Motor Sales U.S.A. Inc.'s 12-year-old Technical Education Network works with 56 vocational and technical schools and community colleges to help recruit, train and find jobs for mechanical service technicians.
Roger Foss, Toyota national dealer support and body shop development manager, says the inclusion of body shop technicians is a logical step for the program.
Toyota expects to add body shop training during the 1998-99 school year, he says. "Like there is a shortage of technicians in the service department, there is a shortage of technicians in the body shop," he says.
COSTLY OPERATIONS?
Dealerships in general are abandoning the body-shop business because stricter environmental laws and pressure from insurance companies to contain costs make an operation that is perceived to be expensive by many dealers even more costly.
Still, total dealership body shop sales were $6.6 billion in 1996, up from $6.3 billion in 1995, according to the National Automobile Dealers Association.
Toyota expects to need more body shop technicians because it believes that its year-old dealership body shop certification program will generate more dealer interest in collision repair.
To become a Toyota Certified Collision Center, dealerships must follow standards that range from business ethics to safety and environmental compliance.
Toyota believes certification will help the dealerships get more customer referrals from insurance companies.
Foss says 465 of Toyota's 1,200 dealerships have body shops employing just under 2,400 collision technicians. Fifteen of those dealership body shops either are certified or in the process of certification. Foss says a study of those 15 shops found that their net profits increased an average of 38.5 percent after putting the standards in place.
FEWER, BIGGER BODY SHOPS
As the number of dealership body shops dwindle, those that are left will become bigger and will need highly trained technicians Foss says. "With the right support, management procedures and training, body shops can become viable profit centers," he says.
Under its Technical Education Network, Toyota provides vehicles, scholarships and training materials to its partner schools. The program combines classroom study and internships at Toyota dealerships. Students generally complete the program in two years and earn an associate's degree.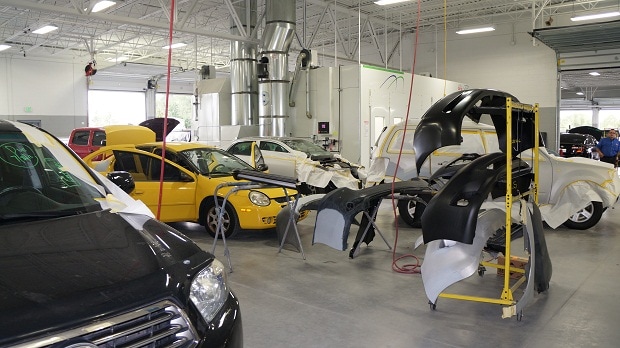 Foss says Toyota is using the 1997-98 school year to determine what kind of collision-training support the schools need, what Toyota can do to provide that support and what kinds of people and expertise dealers are looking for in collision technicians.
Also during this time, Toyota will determine how many of it its partner schools should offer collision repair training and how many dealerships it needs to offer internships.
RELATED ARTICLE: Profit center
Toyota believes its program to certify dealership body shops will increase dealer interest in collision repair. A study of the 15 Toyota dealerships that have been or are being certified shows that those shops increased their parts and labor sales and profits after following a set of standards. Average increases:
* Body shop net profits – 38.5 percent
* Labor sales – 14 percent
* Labor gross profits – 13.3 percent
* Collision parts sales – 13.4 percent
* Parts gross profits – 9.5 percent
Abstract:
Toyota Motor Sales USA Inc will offer body shop repair and refinishing training through their Toyota Technical Education Network (T-TEN). Toyota expects to add the program during school year 1998-1999 since they will be needing around 700 dealership technicians by year 2000. The company will provide the vehicles, training materials, and financial resources to the vocational and technical schools and community colleges. T-TEN will work with the schools and colleges in employing, training and finding jobs for the technicians.